At the first sign of acute back pain, there are a few simple things you can do to provide short term relief and give your back the best chance of healing quickly. Below are some tips to help you manage your back pain. You will also find out how our approach to your acute back pain treatment differs. Our Chiropractors are extensively trained to diagnose and treat any back pain.
Stay active: While it may be tempting to stay in bed, it is important to keep moving as much as you comfortably can. By doing this, you can prevent stiffness and relieve muscle spasms. As part of your treatment plan, our Chiropractors can prescribe a gentle exercise program tailored to suit your condition. They can also gradually progress your exercises to help you return to normal function as soon as possible.
Use ice: Ice has been shown to improve pain during the first 48 hours of back pain. A few easy options are ice bags and frozen peas.
Find comfortable positions: Although you should remain as active as possible during the early stages of back pain, there are times when you need to be lying or sitting down. Find positions that allow you the most comfort, especially when sleeping. Use a pillow under your knees when lying on your back. If you're sleeping on your side, use a pillow between your knees to give you support and relief from pain. When sitting, ensure your lower back is supported. You can use a rolled up towel placed in the small arch of your back. This will help provide support and may relieve your back pain.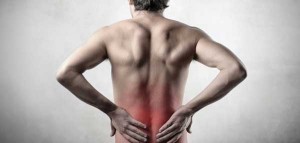 Stay positive: Back pain is a distressing and disabling condition. Just remember, you'll get better. With proper acute back pain treatment, you should regain normal, pain-free movement and improve the strength of key supporting muscles around your spine.
Our Acute Back Pain Treatment
At Active Muscle and Spine, we offer cutting edge treatments for acute back pain relief. We differ from most by treating both your joints and surrounding soft tissue, ensuring you get optimal treatment outcomes. We've helped thousands of people with their back pain over the last 15 years by using the latest science backed techniques and technologies. 
Our sessions usually include a mix of the following acute back pain treatments:
Soft tissue treatment with a medically patented technique called Active Release Techniques. 

Chronic back pain treatment with an intense sound wave treatment called Shock Wave Therapy.

Joint manipulation with chiropractic care to ensure your spine is correctly aligned and functioning optimally.
If you would like to be pain free today, give us a call and let us help you. We are conveniently located in the Sydney CBD across from Wynyard station on George Street. The nearest cross streets are Hunter and George Streets.